By Ovi
All of the oil (C + C) production data for the US state charts comes from the EIA's Petroleum Supply Monthly (PSM). After the production charts, an analysis of three EIA monthly reports projecting future production is provided. The charts below are updated to July 2020 for the 10 largest US oil-producing states.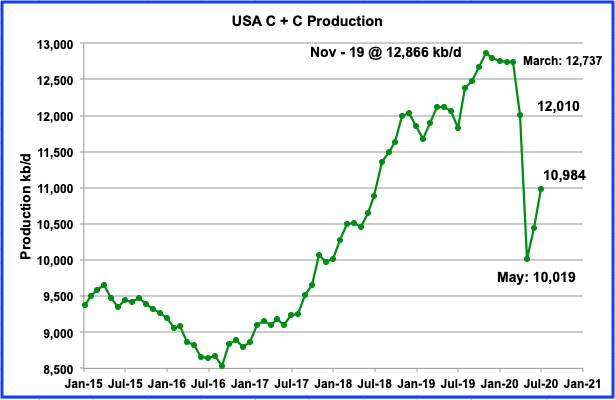 July's US production continued to rebound from May's low by adding 538 kb/d to June's output. Since May, the US has added 965 kb/d, almost 1.0 Mb/d. May's output was revised up by 3 kb/d from the EIA's June report.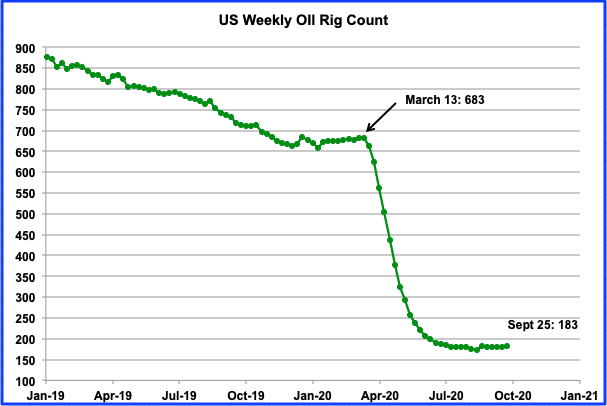 The US rig count stabilized in September at the 180 level and ended up by increasing to 183 rigs in the week of September 25.
Ranking Production from US Oil States
Listed above are the 10 states with production previously greater than 100 kb/d. Over the last few months, both Utah and Louisiana fell below 100 kb/d but Louisiana has now recovered to over 101 kb/d. These 10 accounted for 8,938 kb/d (81.3%) of US production out of a total production of 10,984 kb/d in July 2020. Note that California is the only state where production decreased in July. On a YOY basis, US July production was down by 839 kb/d.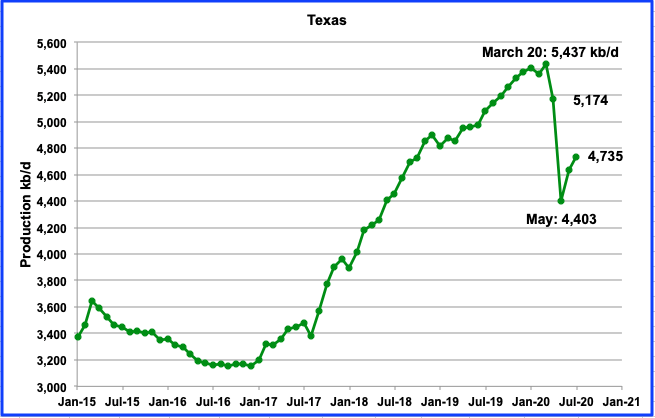 Texas production increased by 103 kb/d to 4,735 kb/d in July. The July output increase was less than half of the 229 kb/d June increase.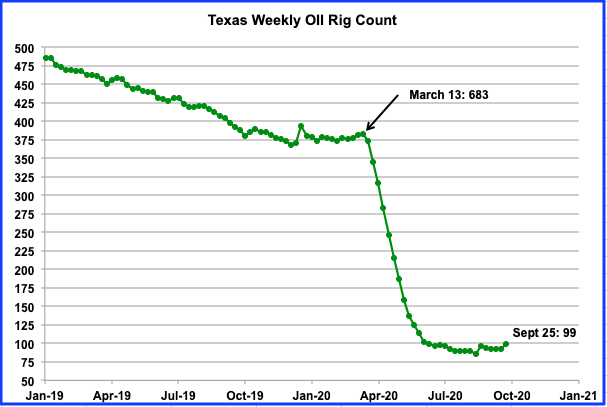 While rigs in operation dropped from March to August 14, production began to rebound in June from the May low. In the week of August 14, the Texas rig count bottomed at 86. During the week of September 25, 99 rigs were operational.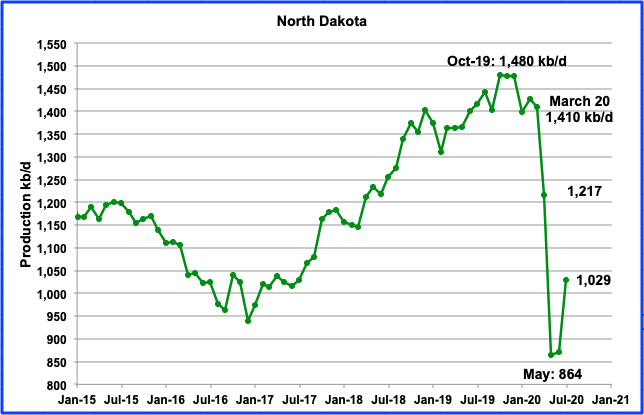 North Dakota's oil production started to drop in November 2019 after peaking at 1,480 kb/d in October 2019. After June's output increased by only 8 kb/d, July added 165 kb/d. July's output restored North Dakota to being the second-largest oil producing state.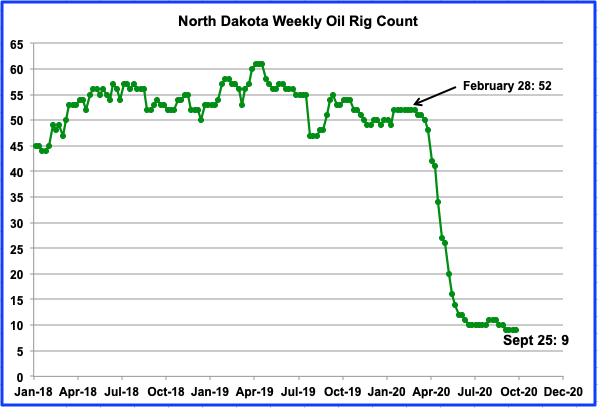 The North Dakota rig count has held steady at 9 for September.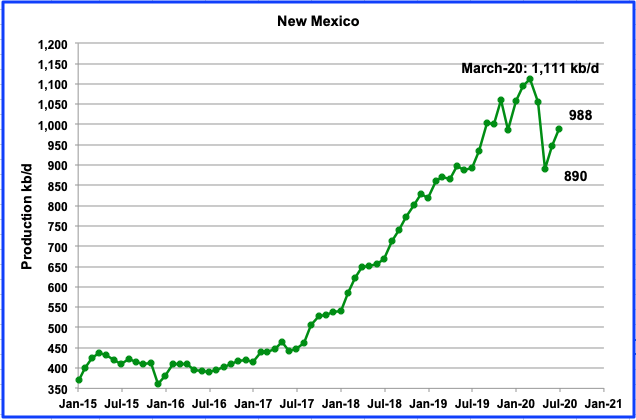 July's New Mexico production increased by 42 kb/d to 988 kb/d. New Mexico has returned to being the third-highest US oil-producing state in July. Last month, it surpassed North Dakota.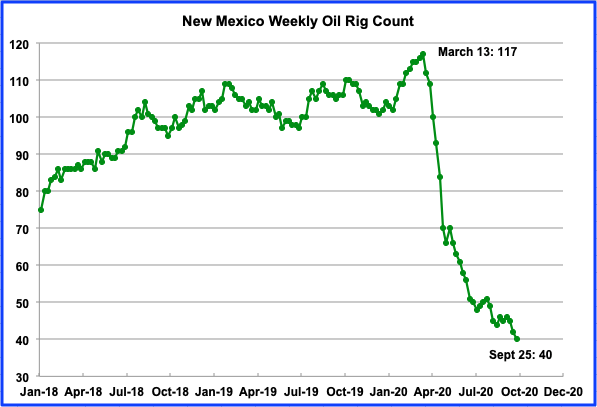 Drilling rigs in the week of September 25 continued to drop from 42 to 40. Even though the rig count kept dropping up to the week of September 25, New Mexico's production bottomed in May and then increases were recorded in both June and July, as shown in the previous chart.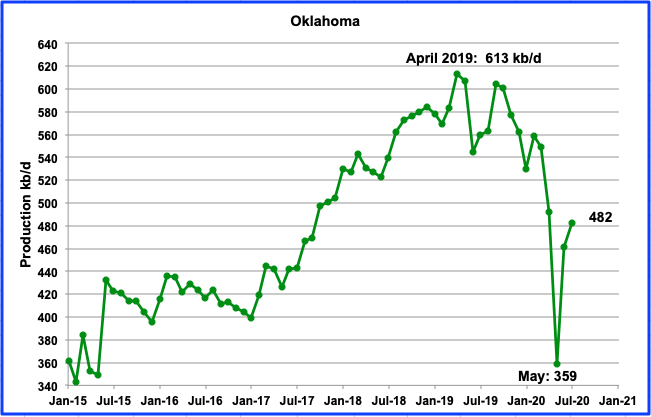 From a low of 359 kb/d in May, Oklahoma's production rebounded in July to 482 kb/d. The July increment was 21 kb/d. Oklahoma had 11 oil rigs in operation during September. In January 2020, 50 oil rigs were in operation. Whether production can recover to the 600 kb/d level may be impeded by the complex geology, according to this one-year-old source.
"Geology has stymied hopes for a "Permian Jr": Exploration wells pointed toward uniform rocks that produced high levels of oil, but producers instead encountered more complexity underground, and production weighted toward gas – at a time of a global glut and stubbornly low prices for the commodity."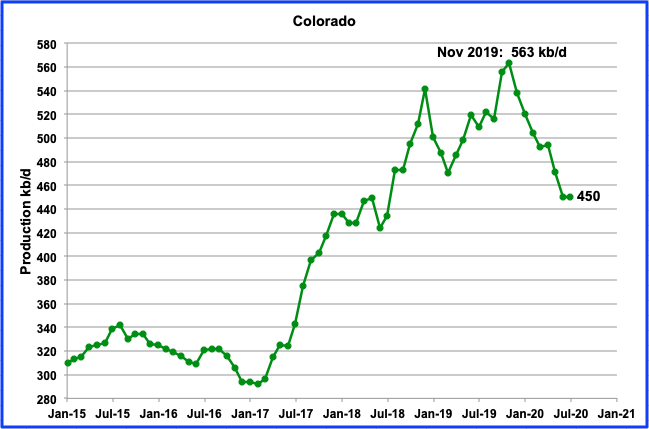 Colorado's July output was flat at 450 kb/d. Colorado's oil rig count has held steady at 4 for the last 14 weeks. It is not clear whether the price of oil has led to the constant number of rigs or whether it is related to the stricter drilling rules in force, or possibly a combination of both.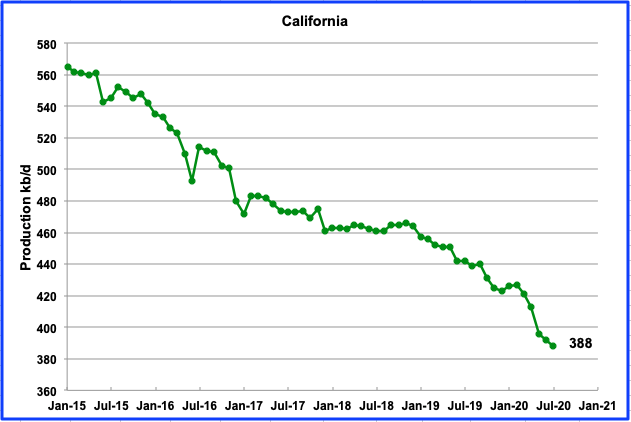 California's slow output decline has accelerated in the last few months and dropped below 400 kb/d. July production was down by 4 kb/d to 388 kb/d and continues its slow and steady decline. During the last 18 weeks, California only had 3 rigs in operation.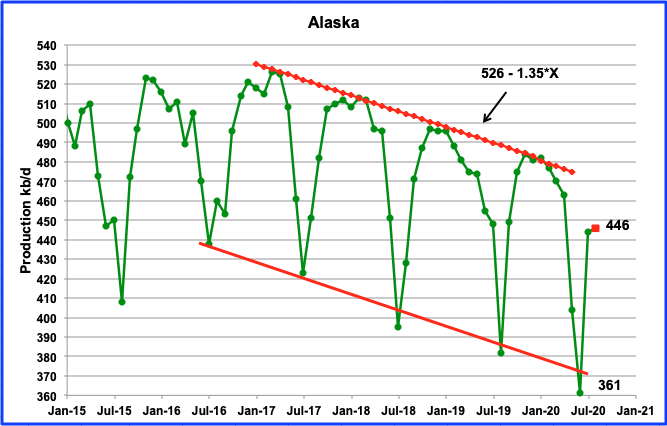 Alaska reversed its annual summer production decline in July. In July, output increased by 83 kb/d to 444 kb/d. August production is expected to be essentially flat 446 kb/d (Red square). The new low of 361 kb/d was 21 kb/d lower than the previous August 2019 low of 382 kb/d.
A summer lows trend line, parallel to the annual winter peaks, has been added to the Alaska chart. It indicates that the summer lows are falling at a higher rate than the decline in the winter peaks. This raises the question of whether the winter peaks will begin to fall away from the current winter trend line. However, according to this source, the Alaska North Slope region produced more oil in July than it had since 2013.
Wyoming's production in July increased by 15 kb/d to 237 kb/d. During the month of September, Wyoming had 1 oil rig in operation, down from a high of 20 in January 2020.
According to this Wyoming source, US producers cannot make a profit with oil below $40. "The U.S. was the world's largest oil producer before COVID-19, but American producers struggle to make profits when the price per barrel is below $40. Diminishing income forced many producers in Wyoming and throughout the U.S. to cap wells."
"Capping wells is drastic, because it can damage (oil) reservoirs," Rob Godby, UW's Energy Economics and Public Policies Center director, said. When producers re-start capped wells, the damage done to reservoirs can reduce the wells' output. "It's not great," Godby said. "But, it's all you can do to stop the bleeding." Prior to 2020, Wyoming's oil production never fell by more than 10% in a single year.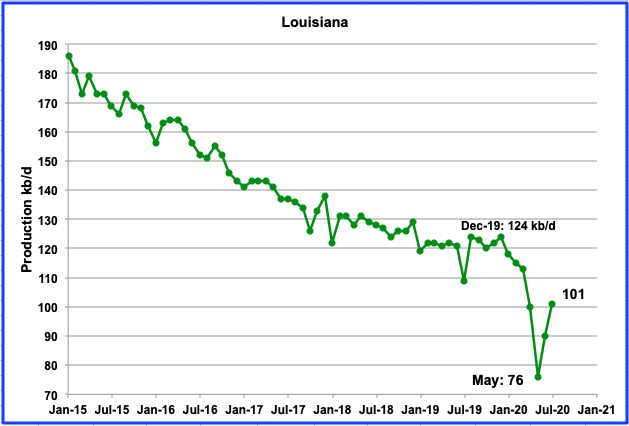 Louisiana's recent output has reversed the steady decline that started in January 2020. In July, production rebounded by 11 kb/d to 101 kb/d. In January 2020, on average, 22 oil rigs were operating. Over the last four weeks, Louisiana's rig count increased to an average 13 from a low of 9 in August.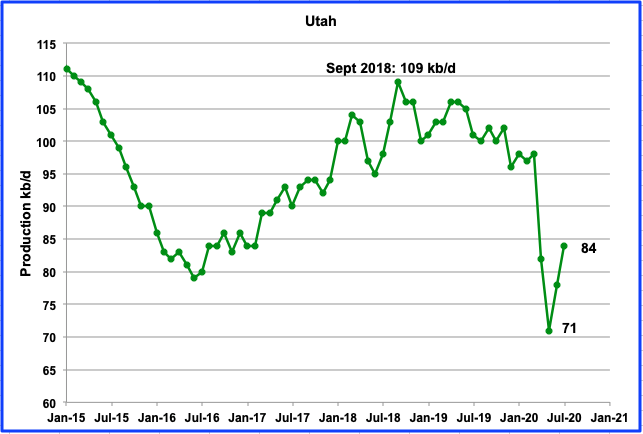 Utah's production bottomed in May 2020 at 71 kb/d and rebounded to 84 kb/d in July. There were no oil rigs operating in Utah during September. Has the increase in output come from reopening shut in wells?
The Utah drilling industry was hard hit by CV-19, and according to this source, "As of May 1, all drilling rigs had left Utah and many current wells are being shut in, according to the Utah Geological Survey."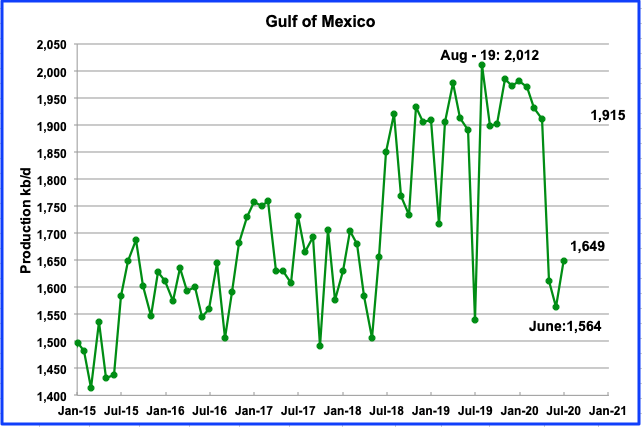 The GOM's production bottomed in June at 1,564 kb/d. In July, output increased by 85 kb/d to 1,649 kb/d. If the GOM were a state, its production would rank second behind Texas.
Updating EIA'S 3 Oil Growth Projections
1) Drilling Productivity Report
The Drilling Productivity Report (DPR) uses recent data on the total number of drilling rigs in operation along with estimates of drilling productivity and estimated changes in production from existing oil wells to provide estimated changes in oil production for the five principal tight oil regions. The charts are updated to October 2020.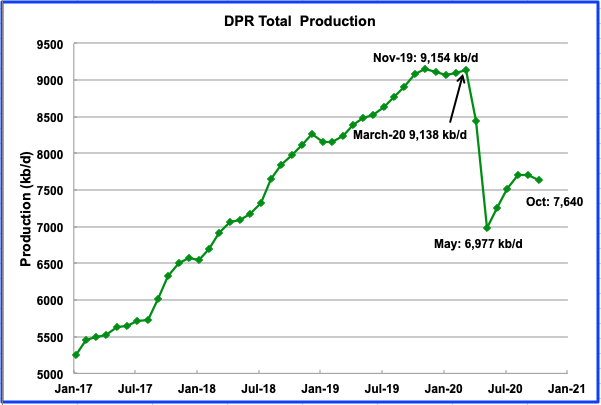 Above is the total oil production from the 7 basins that the DPR tracks. Note that the DPR production includes both LTO oil and oil from conventional wells/fields.
According to the September DPR, LTO oil and conventional oil output bottomed in May 2020 at 6,977 kb/d. The projected output for October 2020 is 7,640 kb/d, down 33 kb/d from September. October's output is 1,514 kb/d below the November 2019 peak of 9,154 kb/d
The contribution from three of the LTO basins is shown in the charts below.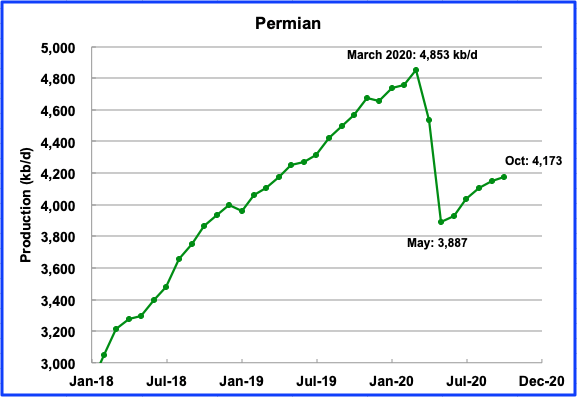 Permian output in October is projected to be 4,173 kb/d, up by 23 kb/d over September and up 286 kb/d from May. October's output is 680 kb/d below the March 2020 peak of 4,853 kb/d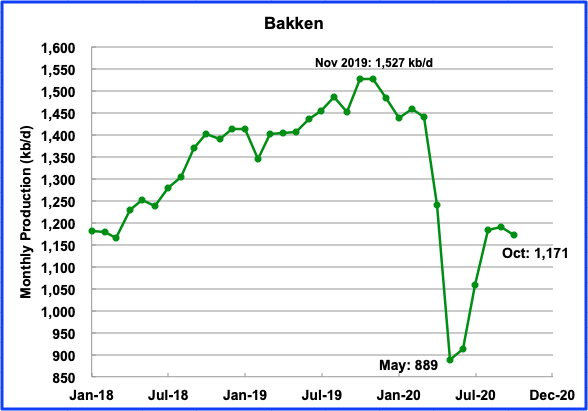 After the Bakken's two big output drops in April and May, output began to bounce back. In October, output is projected to be 1,171 kb/d, an increase of 282 kb/d over May.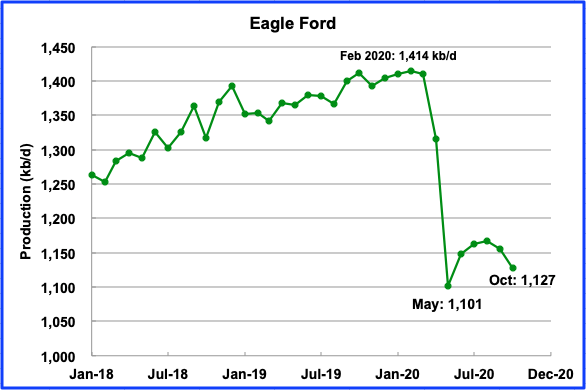 After bottoming in May, Eagle Ford's output is expected to increase up to August and then begin to fall. In October, EF output is projected to drop by 28 kb/d to 1,127 kb/d.
2) Light Tight Oil (LTO) Report
The LTO database provides information on LTO production from seven tight oil basins and a few smaller ones. The September report updates the charts to August 2020.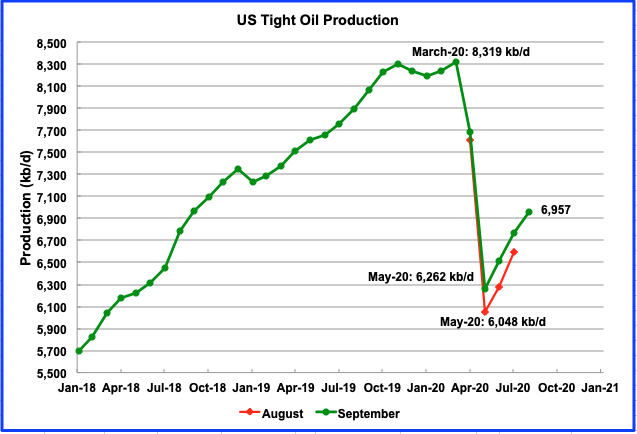 August's total LTO output is expected to increase to 6,957 kb/d from a low of 6,262 kb/d in May. Note that the September report has increased the May to July estimates by approximately 200 kb/d.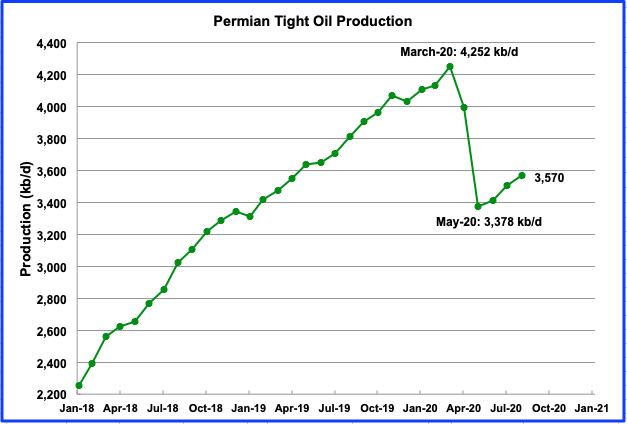 Permian output in August is projected to be 3,570 kb/d, an increase of 192 kb/d from the May low of 3,278 kb/d. The September report shows a smaller increase from May to August than the August report because May output was increased by 170 kb/d.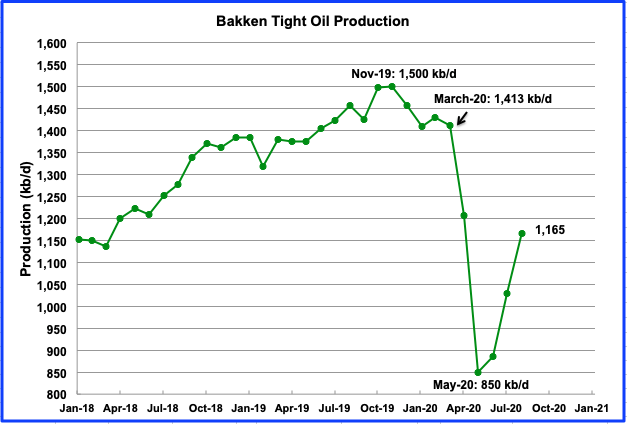 The Bakken is expected to add 315 kb/d to the May low of 850 kb/d by August.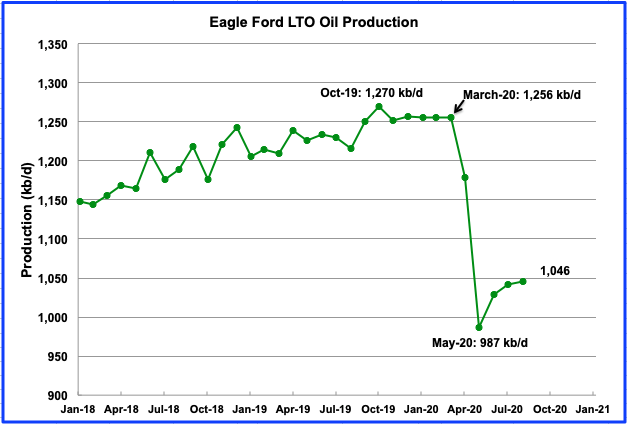 The Eagle Ford basin is expected to produce 1,046 kb/d in August. The increase from May is only 59 kb/d, and EF is showing signs of rolling over.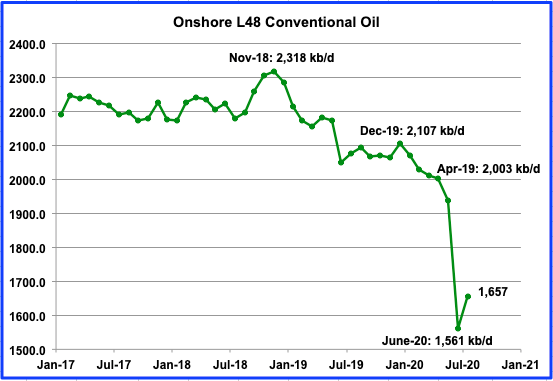 Conventional oil declined in the Onshore L48 by 442 kb/d from April to June. July is expected to restore 96 kb/d of conventional oil.
Note that conventional oil in the L48 also peaked in November 2018, the current world peak oil date.
In the previous section, the DPR is projecting that production will begin to roll over in September and October. LTO output should follow when the data is released in a few months. Could the rollover be associated with WTI staying persistently close to $40 late in September rather than increasing to the $50 range as most drillers might have expected?
3) Short-Term Energy Outlook (STEO)
The STEO provides projections for the next 13-24 months for US C + C and NGPLs production. The September 2020 report presents EIA's oil output projections out to December 2021.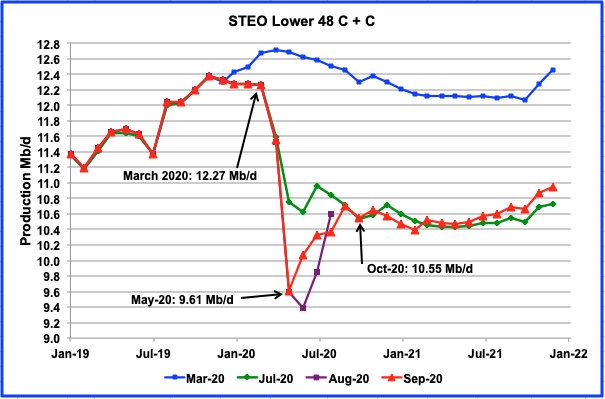 The September STEO report output projection is very similar to the previous July and August graph beyond October 2020. (Purple graph stopped in August for this reason.) The main difference is that the September report/graph shows that production after May bounced back faster than expected between May and August 2020. This could be associated with many conventional wells being reopened as the price of oil recovered. Once they were returned to production status, new drilling was just sufficient to offset decline as capex spending was minimized to keep production flat.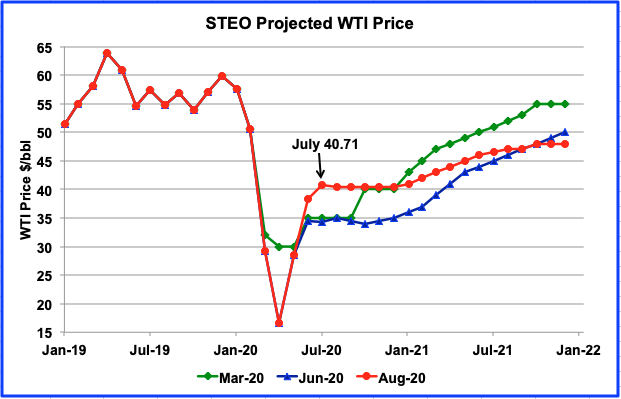 The September STEO is projecting an average WTI price from July to December of $40.50, which is higher than the settled price of $38.72 on October 1, 2020.
World Oil Production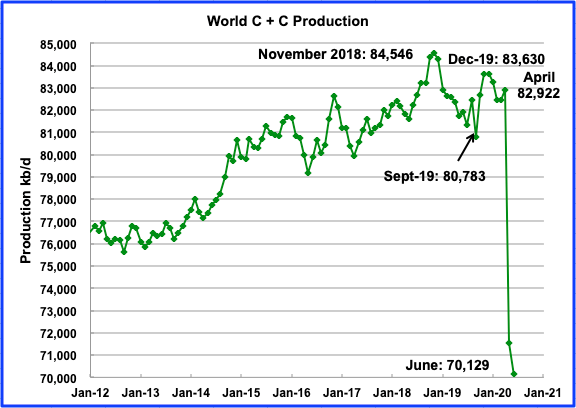 World oil production decreased in June by 1,401 kb/d to 70,129 kb/d. OPEC's production decreased by 1,965 to 24.186 kb/d in June.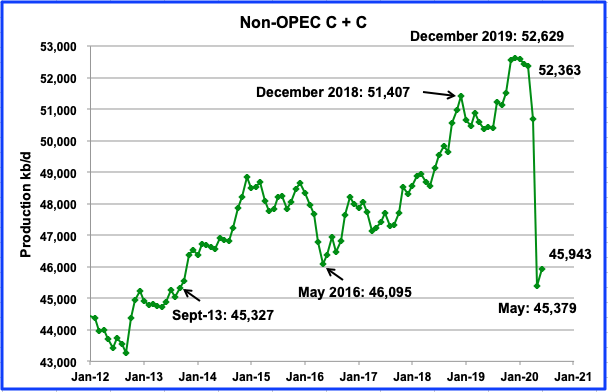 Non-OPEC oil production increased in June by 564 kb/d to 45,943 kb/d. Of the 564 kb/d increase, the US contributed 434 kb/d. OPEC's output drop of 1,965 kb/d was offset by Non-OPEC increase of 564 kb/d for a net world decrease of 1,401 kb/d noted above.
Editor's Note: The summary bullets for this article were chosen by Seeking Alpha editors.